---
---
Calculate Shipping
---
Pick-up from store
- $0.00
Pick-up from 99 Chapel Street, Marrickville in Sydney. Please call (02) 8005 4200 before you come in so your order can be ready by the time you arrive. Open 9am-5pm Monday to Friday.
Notify me when back in stock
10in Filter Housing
3/4" In and Out Ports

Includes Bracket, Screws and Filter Wrench
(EWP10inFH34W)
Be The First To Review This Product!
Help other Window Cleaning World users shop smarter by writing reviews for products you have purchased.
---
More From This Category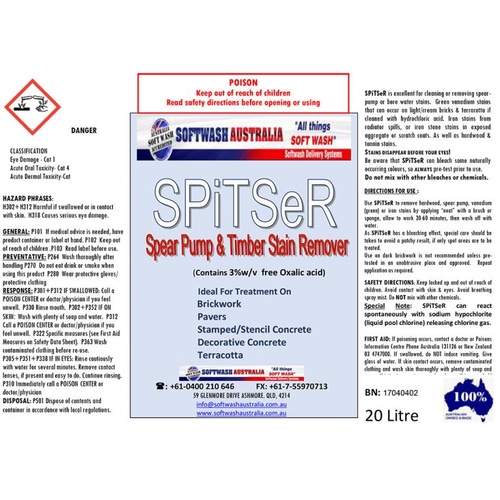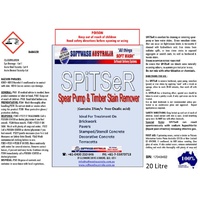 SPiTSeR - 5ltr bottle
Bore Water & Timber Stain Remover
SKU: SWSPITSER5L
Brand: Softwash Australia
Oil-Flo 141™ Specialty Adhesive Remover
, dissolves hard-to-clean residues, organic stains, and substances. This amazing cleaner will quickly remove adhesives of any type:
Mastic, multipurpose, baseboard, parquet, latex, and all asphalt types

Also dissolves grease, oil, waxes, creosote, resin, chewing gum, crayons, tree pitch, tire marks, lipstick, and other difficult materials.

Oil-Flo 141™ is less aggressive than our original Oil-Flo™ Safety Solvent Cleaner and has a pleasant fragrance. Typically used for indoor applications. Bonds to the stain and emulsifies it, then bonds to the oxygen molecules present in water. This two-step process allows a final cleanup with a rinse with plain water.

Slow evaporation = longer dwell time!
Oil-Flo 141™ Specialty Adhesive Remover is safe on most surfaces, including fabrics, concrete, wood, metal, stone, glass, masonry, ceramics, and carpets (please refer to our Carpet Note before using on carpets). Contains no water, but is 100% water soluble. Recommended for many interior applications such as flooring, adhesive removal, carpet cleaning, vehicle interiors, garages, conversion, and more. The benefits of Oil-Flo 141™ include low odor, a high flashpoint (over 61ºC) and its biodegradability. USDA approved
$35.00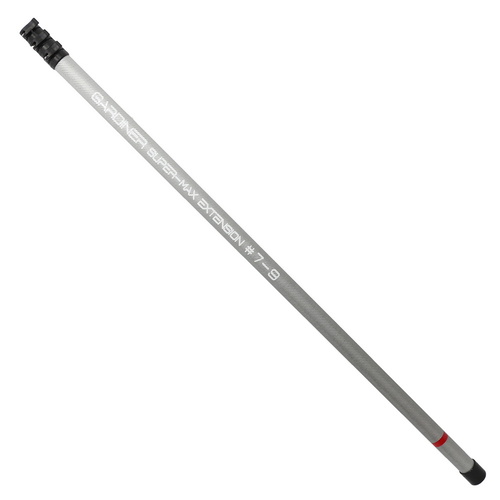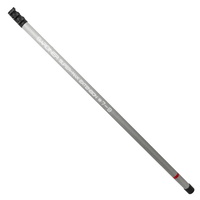 Gardiner SMax 3K Triple Extension #7-9
No. 7-9 Sections
SKU: GDSM3KTRPEXT7-9
Brand: Gardiner Pole Systems
Adds 4.12M
2-3 Story Water-Fed Pole Complete Package
This package includes all of the best equipment to improve your window cleaning efficiency. The SMAX-27 3K HiMod Carbon Fibre Waterfed Pole is extremely durable and can be extended to a 55 foot (5 storeys) pole with extension packs.
The Twin 2 x 8L DI Trolley is our most popular Pure Water System. It is built around our high quality aluminium trolley. It is compact and light enough for a single operator to lift in and out of a vehicle. It comes with 3 TDS meters and an integrated flow meter so you can monitor your water/resin usage more closely. The trolley comes with 2 sturdy hooks that allow you to carry your hose reel with ease. You should be able to get all your equipment from your vehicle to the tap in 1 trip.
The Gardiner Quick-LoQ Gooseneck Valve is the most sophisticated water management device in the market today. It is now very quick and easy to turn the water flow on and off without ever letting go of the pole.
Kit Includes:
Telescopic Pole: Gardiner SMAX-27 3K HiMod Carbon Fibre to reach 2-story buildings. You can add on the #7-9 Extension Pack to make it a 3-4 storey pole. Add the #10-12 extension pack as well and then you have a 5 storey pole.
Pole Tip: 3 pole tips to suit every job. Gardiner Quick-LoQ Brush Pole Tip to connect the pole and brush. The Erkenomic pole tip to fit traditional window cleaning tools to your pole. The Gardiner Quick-LoQ Goosneck Valve allows you to easily twist the pole to turn the water flow on and off.
Bronze Pad Holder: This pad holder is great to attach to the back of your pole tip. It includes a double adaptor to install onto the pole tip, as well as the bronze pad and bronze pad holder. These pieces will be installed on the Gardiner Quick-LoQ Gooseneck valve so that you can easily switch between brushing and scraping/scrubbing.
Brush: Gardiner Super-Lite Brush Dual-Trim 100% Dupont Nylon comes with all the jet tube and fittings ready to plug into your pole hose kit. This brush is getting rave reviews in the UK.
Pole Hose: Gardiner Pole Hose Kit (15m). You can run this internally or externally to your pole.
Pure Water Treatment System: The Twin 2 x 8L DI trolley pure water system has 3 TDS meters, making sure you never get caught out on a job without pure water. It includes 2 Pure Water outlets so you can run 2 poles at once
Winclean Resin: Comes with a 25L bag of resin, which will fill the twin tank, with enough resin left in the bag to fill 1 of the 2 tanks.
Funnel: DI Resin Filling Funnel to easily fill your tank. The funnel has an integrated cap that fits over the riser tube making the resin filling job a breeze.
Lead Hoses: 2 x 1M of fitted hose to connect the Twin Tank DI to a water source and to connect the hose reel to the Pure Water outlet.
Hose Reel and Hose: Includes the Claber Kiros Hose Reel, which easily sits on the DI trolley to allow you to carry around your hose reel effortlessly. With 50m of premium, made in the UK, 6mm ID hose
$595.00