Samurai Bucket on a Belt System
It's time to upgrade from buckets on a belt that leave your pants soaking wet or don't fit your larger specialty tools. You need the Samurai BOAB.
Detachable, adjustable and awesome. It's wider than other traditional Bucket On a Belt designs. Comfortably holds larger combination tools as well as your standard channels, T-Bars and Scrubbers. This innovative design allows you to stay dry while it holds your tools conveniently at your side. Features a quick-release strap that can be adjusted to different heights to keep large tools low or small tools right by your belt.
This Bucket on a Belt was designed to contain the large 36-inch Ninja Channel so you can rest assured that your tools will fit. It can also accommodate a 22-inch mop. The unique design allows water to drain from squeegees back into the mop area to keep them from getting overly soapy. There's a useful partition to keep tools separate, so there aren't any issues with them tangling together. The partition can also be removed for easy cleaning. Squeegees can fit handle in or out, and the partition means the rubber shouldn't get knicked.
The Samurai's come with either the webbing style buckle to attach around your belt or the new Samurai Buckle (BLACK AND BLUE HAVE THE SAMURAI BUCKLE). The Samurai Buckles can be configured to let the BoaB swivel or stay stationary.
Features:
Detachable

- Easily remove the

BOAB

from your belt

Adjustable

- The Belt Strap is adjustable so you can hang it higher or lower on your hip depending on your preferences. If you're using large tools, you can let it hang lower or you can let it ride right on top of your belt.

Insert

- The rubber Insert protects your squeegee rubber and allows you to separate your squeegees. You can also take out the rubber divider to fit a Wagtail High Flyer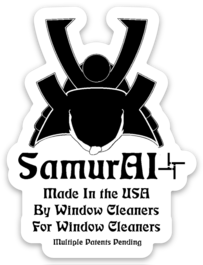 (SAMBOAB)
Samurai Bucket on a Belt

8 April 2019

Well, after looking at so many different BOAB's , decided to try this one as the videos on the guy who makes it showed me the amount of thought that went into it. I have it on a Moreman Belt, and I use Wagtail Highflyers, they fit no problem at all, and I am only short, so i just used the one clip to keep it closer to my hips. No wet leg, nothing fell out, and extremely happy with the finish. Priced well, and very rugged. It isnt heavy, not bulky, and I do a lot of interior close work and have had no issues fitting in between furniture to get to windows, Overall very happy. .




(5)
---
We Also Recommend
---
You May Also Like
---
Others Also Bought
---
More From This Category