---
---
Calculate Shipping
---
Pick-up from store
- $0.00
Pick-up from 99 Chapel Street, Marrickville in Sydney. Please call (02) 8005 4200 before you come in so your order can be ready by the time you arrive. Open 9am-5pm Monday to Friday.
Notify me when back in stock
Gardiner Ultimate Flocked Brush 45cm
Ultimate balance between weight, coverage & durability

Only 290 grams - 45cm (18in) width

This brush comes with

4 2mm Pencil jets with holes for 4 extra jets

Single trim brush

Soft bristles with split ends for a "micro-fibre like" action on the glass

Sprung brush stock (made in UK) allowing equal pressure accross full brush width

Needs to be held OFF the glass for rinsing

Comes standard with 4 x 2mm pencil jets
Comes with 6mm jet tubing to connect all jets
Comes with a 4-way push-fit fitting that receives standard 8mm pole tube
Check "We Also Recommend" items below, for Push Fit Valve Fitting and other fan and pencil jet options
(GDBULT45F)
Be The First To Review This Product!
Help other Window Cleaning World users shop smarter by writing reviews for products you have purchased.
---
We Also Recommend
---
Others Also Bought
---
More From This Category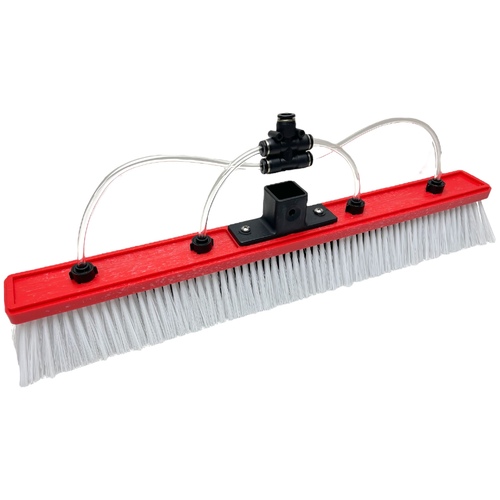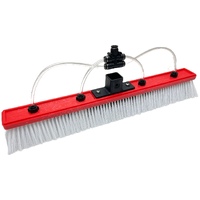 Gardiner Ultimate Brush Medium Soft 45cm
18" (45cm)
SKU: GDBULT45MS
Brand: Gardiner Pole Systems
Ready to Plug into Your Hose!
Gardiner Ultimate Flocked Brush 45cm
Ultimate balance between weight, coverage & durability

Only 290 grams - 45cm (18in) width

This brush comes with

4 2mm Pencil jets with holes for 4 extra jets

Single trim brush

Soft bristles with split ends for a "micro-fibre like" action on the glass

Sprung brush stock (made in UK) allowing equal pressure accross full brush width

Needs to be held OFF the glass for rinsing

Comes standard with 4 x 2mm pencil jets
Comes with 6mm jet tubing to connect all jets
Comes with a 4-way push-fit fitting that receives standard 8mm pole tube
Check "We Also Recommend" items below, for Push Fit Valve Fitting and other fan and pencil jet options
$102.50